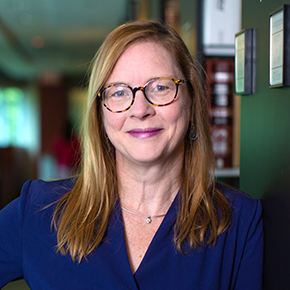 Sarah Shalf
Professor of Practice
Areas of Expertise
Appellate Advocacy, Civil Rights Litigation, Externships, Professionalism, Technology Law, Voting Rights
Sarah M. Shalf joined the Emory Law faculty in April 2011 as director of the externship program and co-director of the professionalism program after nine years in practice in Atlanta. A native of Virginia, she is a graduate of both the college and the law school at the University of Virginia, where she was elected to Order of the Coif and received the Margaret Hyde Award, which is awarded by the faculty to an outstanding member of the graduating class. She served as an executive editor on the Virginia Law Review and a justice on the William Minor Lile Moot Court Board. She also holds a master of science in mathematics from the University of North Carolina at Chapel Hill.
After graduation from law school, she clerked for Judge Frank M. Hull on the U.S. Court of Appeals for the Eleventh Circuit and then joined the Atlanta litigation boutique of Bondurant, Mixson & Elmore LLP, where she practiced commercial litigation with a focus on cases involving technology and intellectual property, business torts and unfair competition, and racketeering and fraud, as well as appellate litigation at all levels of the Georgia and federal court systems.
In addition to her commercial cases, she litigated a number of public interest cases, as pro bono service or otherwise, including in the areas of First Amendment protests; election law; disability law and prisoner civil rights; immigration, direct criminal, and habeas appeals; and constitutional challenges to medical malpractice damages caps.
She was named as one of fourteen Atlanta lawyers under forty and "On the Rise" by the Fulton County Daily Report in 2006, and she was named a "Rising Star" Super Lawyer by Atlanta Magazine in 2006 and 2010.
She is active in the Atlanta and Georgia Bar associations, and she is the past chair of the technology law section of the Georgia Bar. She was the founding chair of the Georgia Lawyer chapter of the American Constitution Society, on whose executive board she still serves.
At Emory Law, in addition to directing and teaching in the externship program and coordinating the Professionalism Program, she is the faculty advisor for the Supreme Court Advocacy Program, supervising student teams writing one to three petitions for certiorari and four to six amicus briefs each school year. She is also the faculty advisor to the Civil Rights and Liberties Moot Court Competition, the Emory Law student chapter of the American Constitution Society, and Social Enterprise at Emory Law (SEEL).
Education: JD, University of Virginia School of Law 2001; MS, University of North Carolina–Chapel Hill 1996; BA, University of Virginia 1994
Journal Articles
"The Legal Context of School Violence: Effectiveness of Federal, State & Local Law Enforcement Measures to Reduce Gun Violence in Schools," 23(3) Law & Policy297 (2001) (with Richard Redding).
"Legal Liability Issues Concerning Pre-Adjudicatory Drug Testing of Detained Individuals," U.S. Department of Justice, Office of Juvenile Justice and Delinquency Prevention, NCJ 183500 (1999) (with Richard Redding).
Book Chapters
Chapter 3, Institute of Medicine Board on Health Sciences Policy, Ethical Considerations for Research Involving Prisoners, National Academies Press (2006) (writing consultant).