Main content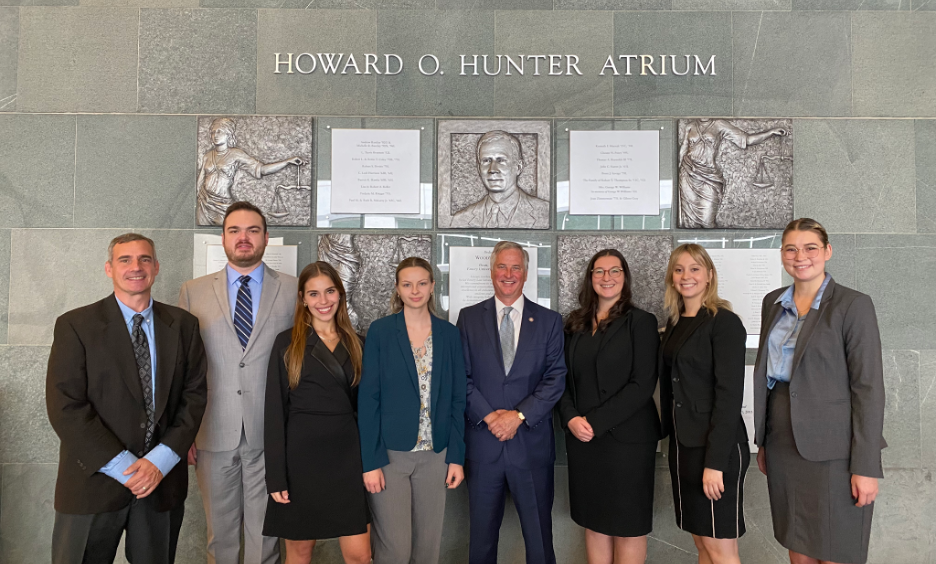 Since 2010, ELSSCAP has worked on over 60 Supreme Court filings, including briefs for amicus curiae and petitions for certiorari.
The Emory Law School Supreme Court Advocacy Program (ELSSCAP) is the only student-run Supreme Court litigation program in the United States, producing persuasive petitions for certiorari and amicus briefs in a broad range of practice areas, including administrative law, bankruptcy law, constitutional law, criminal law, and tort law. Students work under the guidance of experienced litigators as they handle all aspects of ELSSCAP's work, giving them a unique opportunity to choose cases, write briefs, and engage in significant issues that merit being heard by the US Supreme Court.
History
In 2010, the late Professor David J. Bederman and Kedar Bhatia 13L formed the Emory Law School Supreme Court Advocacy Program to provide students with experience in litigation, research and writing, compliance with court rules, and communication with outside counsel.
Paul Koster, Professor of Practice, serves as the faculty advisor to the program.
Achievements
The Emory Law School Supreme Court Advocacy Program is recognized in the legal community for its many successes. 
Justice Breyer, in a dissenting opinion, cited a merits-stage amicus brief ELSSCAP filed in Florence v. Board of Chosen Freeholders on behalf of medical professionals.
In 2012, the Supreme Court granted certiorari in one of ELSSCAP's cases, Bullock v. BankChampaign N.A., a bankruptcy case regarding the definition of "defalcation." On May 13, 2013, the Supreme Court issued a unanimous decision in favor of ELSSCAP's client. 
National Law Journal recognized ELSSCAP's public service efforts and profiled the organization for the amicus brief it filed in Florence v. Board of Chosen Freeholders.
ELSSCAP won the International Municipal Lawyers Association Amicus Service Award for the 2010-11, 2012-13, 2013-14, 2014-15, 2015-16, 2018-19, and 2019-20 school years for its work in representing the organization's interests.
Amicus Briefs
2023
Hester v. Gentry, 22-835 (Cato Institute, National Association of Evangelicals, Rutherford Institute, Georgia Association of Criminal Defense Lawyers, Woods Foundation)
Moore v. United States, 22-800 (Professor Alex Zhang)
Tyler v. Hennepin County, 22-166 (New Disabled South, Emory Disabled Law Students Association)
2022
Abitron Austria GmbH, et al. v. Hetronic International, Inc., 21-1043 (Professors Margaret Chon, Timothy Holbrook, and Marketa Trimble)
Health and Hospital Corporation of Marion County, Indiana v. Talevski, 21-806 (Georgia Advocacy Office, Emory Disabled Law Students Association)
2021
CVS v. Doe, 20-1374 (Emory Environmental Law Society)
Melvin v. FedEx, 20-1107 (Jobs with Justice)
United States v. Vaello-Madero, 20-303 (League of United Latin American Citizens)
West Virginia v. EPA, 20-1530, 20-1531, 20-1178, 20-1780 (National Parks Conservation Assoc.)
2020
McGirt v. Oklahoma, 18-9526 (Intl Municipal Lawyers Assoc. and Natl Sheriffs' Assoc.)
Miami Gardens v. Wells Fargo, 20-405 (Intl Municipal Lawyers Assoc.)
Ommen v. Milliman, Inc., 20-249 (Intl Assoc. of Insurance Receivers)
Retzlaff v. Van Dyke, 19-1272 (16 Media Organizations and Advocacy Groups)
2019
American Legion v. American Humanist Ass'n, 17-1717, 18-18 (The Military Religious Freedom Foundation and 16 High-Ranking Military Officials and Veterans)
Bullock v. NC, 18-924 (Petitioners - Petition for Certiorari)
Georgia v. Public.Resource.Org, Inc., 18-1150 (Brendan Keefe, in his Official Capacity as Chief Investigative Reporter for 11Alive ATL, and WXIA-TV)
Winstead v. Johnson, 18-1013 (Intl Municipal Lawyers Assoc.)
2018
Bethea v. North Carolina, 18-308 (The Natl Assoc. for Rational Sexual Offense Laws and NC Rational Sexual Offense Laws)
Carpenter v. Murphy, 17-1107 (Intl Municipal Lawyers Assoc., Intl City/County Management Assoc., and the Natl Sheriffs Assoc.)
Davenport v. Sandy Springs, 17-869 (Restoring Religious Freedom Project and Student Press Law Center)
Lee-Walker v. NYC Dept of Ed., 17-1065 (Foundation for Individual Rights in Education)
WesternGeco v. Ion Geophysical, 16-1011 (IP Law Scholars)
2017
2016
Blanchard v. Brown, 15-824 (Intl Municipal Lawyers Assoc.)
McLaughlin v. Lejeune, 16-552 (Respondents - Petition for Certiorari)
Salman v. United States, 15-628 (Professor Richard D. Freer)
Sheriff v. Gillie, 15-338 (5 Consumer Law Professors)
Town of Chester, New York v. Laroe Estates, Inc., 16-605 (The Natl Assoc. of Counties, the Natl League of cities, the US Conf. of Mayors, and the Intl Municipal Lawyers Association)
2015
2014
AL Dept of Revenue v. CSX Transportation, 13-553 (State & Local Govt Organizations)
DOT v. Amtrak, 13-1080 (Professor Alexander Volokh)
San Francisco v. Sheehan, 13-1412 (Intl Municipal Lawyers Assoc., Natl Assoc. of Sheriffs)
2013
Assoc. for Molecular Pathology v. Myriad Genetics, Inc., 12-398 (The Ethics & Religious Liberty Comm. of the Southern Baptist Convention and Prof. D. Brian Scarnecchia)
Christopher v. GlaxoSmithKline, 11-204 (Medical Professionals)
Brinkley v. Georgia, 13-7381 (Petitioners - Petition for Certiorari)
Bullock v. Bankchampaign, 11-1518 (Petitioners)
Dan's City Auto Body v. Pelkey, 12-52 (Intl Municipal Lawyers Assoc., Natl Assoc. of Counties, Natl League of Cities)
Fisher v. University of Texas at Austin, 11-345 (Emory OUTLAW, Emory Latin American Law Students Association)
Kasonso v. Eric Holder, 11-1149 (Petitioners - Petition for Certiorari)
Los Angeles Flood Control District v. NRDC, 11-460 (Intl Municipal Lawyers Assoc.)
McCutcheon v. RNC, 12-536 (Committee for Justice)
Ritchie v. United States, 13-893 (Petitioners - Petition for Certiorari)
Scott v. St. John's Church in the Wilderness, 12-1077 (Historians of Art and Photography )
Three-Dimensional Media Group, Ltd. v. Kappos, 12-48 (Petitioners - Petition for Certiorari)
Vance v. Rumsfeld, 12-976 (Government Accountability Project)
White v. Baptist Memorial Health Care Corporation, 13-107 (Petitioners - Petition for Certiorari)
2011
2010
---