Main content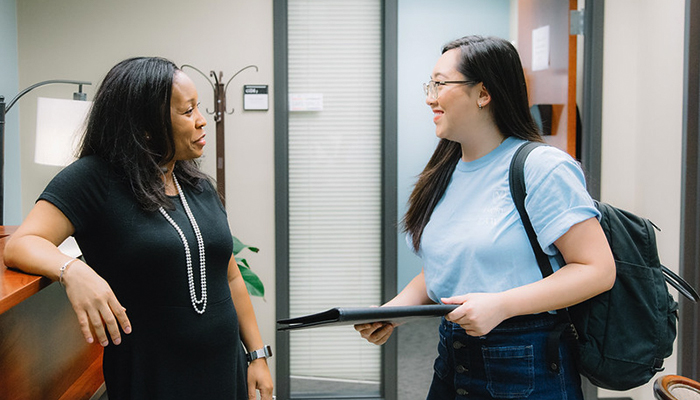 Emory Law's Center for Professional Development & Career Strategy offers a fresh approach to helping students transition to practice. We provide the structure, guidance, and resources that enable students to explore their unique professional journeys effectively while leveraging professional development and job search resources to their maximum advantage. 
Virtual Appointments for Continuing Students and Recent Graduates
Following Emory University's preventative measures surrounding COVID-19, currently, all career counseling appointments are held remotely.  
Career Appointments
Appointments are conducted via phone, Zoom, or Skype, and you will receive further instructions pending your appointment confirmation from your advisor. You may set up a virtual appointment by e-mail, or please set up a virtual appointment with your advisor.
Career Events
Please checkSymplicity for updates on career-related events by the Career Center, as well as Employers. Registration instructions for these programs are available in the event listings in Symplicity.
On-Campus Interviews (OCI)
Emory Law hosts On-Campus Interview (OCI) programs during the late summer and early fall for second- and third-year students.  
An additional OCI program during the spring semester is open for all students, but it is primarily focused on first-year students. Legal employers and recruiting organizations from across the country participate, including large, medium, and small law firms; corporations; and public interest and government agencies. Also, Emory Law participates in several regional interview programs held in cities throughout the country. Instead of interviewing on campus, many employers choose to post job listings for part-time positions during the academic year as well as summer and post-graduate employment opportunities.
Additional Interview Programs
Since many legal employers cannot hire until a position becomes available, employers recruiting at these programs tend to be larger law firms, government agencies, or corporations that can hire months in advance.
Atlanta

 

Bar Association Minority & Diversity Clerkship Program, Atlanta, GA

Boston Lawyers Group Minority Job Fair, Boston, MA

Charlotte Legal Diversity Clerkship Program, Charlotte, NC

Cook

 

County Minority Job Fair, Chicago, IL

Delaware

 

Minority Job Fair, Wilmington, DE

DuPont Legal Minority Job Fair, Wilmington, DE; Houston, TX; and Los Angeles, CA

Emory in New York Interview Program, New York, NY

Equal Justice Works Public Interest Law Career Fair, Washington, DC

Georgia

 

Law School Consortium Judicial Clerk Job Fair, Athens, GA

Georgia Law School Consortium Public Sector Career Fair, Atlanta, GA
Heartland Diversity Job Fair, Kansas City, MO

Lavender Law Conference, various locations

Loyola Patent Law Interview Program, Chicago, IL

Midwest California-Georgia Consortium Programs in Washington, DC; Chicago, IL; and Texas

Minnesota

 

Minority Recruitment Conference, Minneapolis, MN

Mobile Bar Association Minority Job Fair, Mobile, AL

National Black Prosecutors Association Job Fair, Philadelphia, PA

New England Interview Program, Boston, MA

Northwest Minority Job Fair, Seattle, WA

Rocky Mountain Diversity Legal Career Fair, Denver, CO

Southeastern Intellectual Property Job Fair, Atlanta, GA

Southeastern Minority Job Fair, Atlanta, GA

Tennessee Bar Association Diversity Job Fair, Nashville, TN
Judicial Clerkships
Employers highly value judicial clerkships. Most law firms give former clerks credit for one or two years of practice, depending on the clerkship's length; some firms give former clerks a bonus when they join the firm; and a few firms even require new associates to have clerked.
For complete information about Emory Law's judicial clerkship opportunities, contact the Center for Public Service or Assistant Dean Rita Sheffey.
Speakers and Programs
Every year, we sponsor many career skills and legal career information programs and invite attorneys from the private and public sectors and nationally known speakers to provide career and job-search advice to students.
---