Main content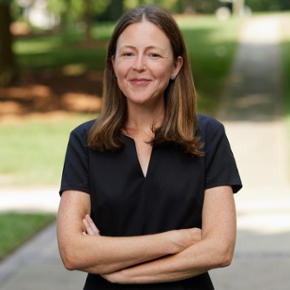 Areas of Expertise
Civil Rights, Habeas Corpus, Rights of Prisoners, Criminalization of Poverty
---
Courses
Rights of Prisoners
---
Biography
Sarah Geraghty is a lecturer at Emory University School of Law.
Geraghty is also senior counsel at the Southern Center for Human Rights. She practices in the areas of civil rights, habeas corpus, and class action litigation aimed at improving fairness and conditions in the criminal legal system. She has litigated cases challenging inhumane prison conditions, open records law violations, denial of the right to counsel, and the incarceration of indigent persons for debt.
In 2020, Geraghty was named "Attorney of the Year" by the Fulton County Daily Report. She was the recipient of a 2020 "Legal Legend" award from the American Constitution Society. She received the Unsung Devotion to Those Most in Need Award from Emory University School of Law (2017), and the Indigent Defense Award from the Georgia Association of Criminal Defense Lawyers (2011). Geraghty has published articles and essays on the criminal legal system, including in Harvard Civil Rights-Civil Liberties Law Review, Stanford Law & Policy Review, and Michigan Journal of Race & Law. Her work against the criminalization of poverty has been featured in many publications, including the New York Times.
She is a member of Alabama, Georgia, Illinois, and New York bars.
Education: JD, University of Michigan Law School; MSW, University of Michigan School of Social Work; BA, Northwestern University. 
---