Main content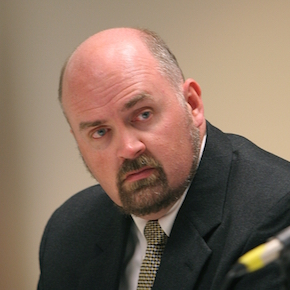 Areas of Expertise
Appellate Practice, Criminal Law
---
Courses
Prosecution Externship
---
Biography
Georgia Department of Law – Atlanta, GA – 2/99 – 8/03
Assistant Attorney General, Criminal Division
Hames represented the State of Georgia in federal and state trial and appellate courts throughout Georgia. He acted as lead counsel in numerous high profile and precedent setting cases, including over ninety-five cases resulting in published opinions by the Georgia Supreme Court and US Court of Appeals for the Eleventh Circuit. Specialized in non-death penalty murder appeals and habeas corpus petitions in state and federal court. His time at the Attorney General's Office provided invaluable training in criminal law, habeas corpus, and appeals.
Private Practice
After leaving the Georgia Department of Law, Hames joined a small law firm and continued representing governmental entities such as the Secretary of State, the Georgia Real Estate Commission, the Georgia Real Estate Appraisers Board, counties, and other government authorities. For the Secretary of State, Hames investigated violations of Georgia's securities laws and other regulations. Hames represented the Real Estate Commission and Appraisers Board in administrative hearings before the Office of State Administrative Hearings.
In 2005, Hames started the Hames Law Firm LLC to provide clients excellent legal representation at a fair price. Hames has represented several individuals accused of all kinds of crimes from the time of the initial investigation through trial. Hames has successfully represented people in almost every type of criminal case. Specifically, Hames has represented people, and sometimes companies, accused of white collar crimes such as mortgage fraud, loan application fraud, health care fraud, tax fraud, money laundering, wire fraud, bank fraud, and criminal copyright violations. Hames has also successfully represented clients charged with sex crimes, crimes of violence, property crimes, and murder.
In addition to his work for governmental entities, small corporations and individuals, Hames has gained valuable experience in many different areas of the law. He has successfully represented individuals and small businesses in all kinds of civil litigation. Hames has continued his work representing clients at trial and on appeal.
Education
Tulane School of Law – New Orleans, LA
Cum laude, May 1998
Academic Honors Awarded Certificate of Advance Study of Arbitration;
Appointed to Dean's Advisory
Committee and ADR Academic Advisory Committee.
Senior Articles Editor, Tulane Journal of Law And Sexuality
Activities Chief Administrator of the Honor Board
Appellate Advocacy Clinic
Awards Gary Lawton Fretwell Award - Award for outstanding graduate student leader
chosen from all graduate students.
Universita Di Siena - Siena, Italy, 1997
Summer program that included courses in comparative constitutional law, comparative civil procedure, and American
Constitutional History taught by former Chief Justice William Rehnquist of the United States Supreme Court.
The American University – Washington, DC
Bachelor of Arts, Literature, May 1991
Institute for Shipboard Education
Program of comparative international study and travel sponsored by the University of Pittsburgh.
---