Main content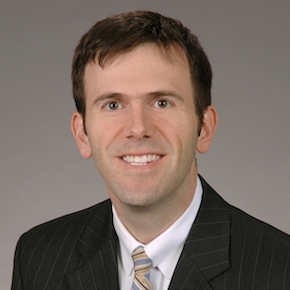 Areas of Expertise
Environmental Law, Environmental Litigation
---
Courses
Water Law and Environmental Litigation
---
Biography
Andrew Thompson is a partner in the Environmental/Land Use practice of Smith, Gambrell & Russell, LLP and a member of the firm's Sustainability Practice Group.
Thompson's practice includes environmental and commercial litigation in state and federal court, as well as in state administrative court. He has represented and advised clients in connection with a range of environmental and commercial issues, including toxic tort litigation, Clean Water Act permitting and compliance, insurance coverage litigation, hazardous waste, groundwater contamination, environmental cleanup and emergency response, and other environmental matters. Thompson serves as adjunct professor at Emory University School of Law teaching a course in water law and environmental litigation.
Thompson's representative experience includes the following:
Serving as lead counsel for Fortune 100 company in a putative class action alleging exposure to beryllium—in such action, obtained summary judgment on behalf of client and successfully had plaintiffs' causation expert excluded under Daubert.
Serving as national coordinating counsel for multinational corporation in toxic tort ligation involving asbestos, silica, benzene, and other exposure claims.
Representing multiple clients in coverage disputes with insurers and successfully obtaining reimbursement of past defense costs and coverage for future defense costs and indemnity.
Serving as lead counsel for multinational corporation in successful defense of putative class action and mass tort actions relating to PCE and TCE contamination in groundwater.
Serving as lead counsel for multinational corporation in CERCLA cost recovery action relating to groundwater contamination.
Representing landlord in mold litigation which resulted in one of the first of its kind Daubert rulings excluding a plaintiff's medical causation testimony relating to alleged injuries from exposure to "toxic" mold.
Representing client in response to CERCLA section 104(e) request from US EPA in regard to Superfund site.
Successfully representing clients in all aspects of Clean Water Act litigation, including prosecuting and defending citizen suits under the Act.
Representing non-profit organizations in appeals of wastewater discharge permits which have resulted in multiple decisions of firm impression by the Georgia Supreme Court and lower Georgia courts regarding the Clean Water Act.
Acting as lead counsel defending a citizen from a lawsuit which resulted in the Georgia Supreme Court's first decision on Georgia's "anti-SLAPP" statute protecting citizens' public participation rights.
Thompson is a board member for the Turner Environmental Law Clinic at Emory Law, a member of the Metro Atlanta Chamber of Commerce Environmental and Sustainability Committee and a member of the Defense Research Institute Toxic Torts and Environmental Law Section. He is on the advisory board of Chattahoochee Riverkeeper, Inc. and is a class of 2012 graduate of the Institute for Georgia Environmental Leadership. From 1997 to 1998, Thompson served as a judicial clerk for the Honorable R. Lanier Anderson III, United States Court of Appeals for the Eleventh Circuit. Thompson received his BA degree, summa cum laude, in Politics from Wake Forest University in 1994, where he was a Carswell Scholar and a member of Phi Beta Kappa. In 1997, he received his JD, with distinction, from Emory University School of Law, where he was elected to the Order of the Coif. While at Emory, he served as a Notes and Comments Editor of the Emory Law Journal.
Thompson is admitted to practice before the Georgia Supreme Court and Georgia Court of Appeals, the US Court of Appeals for the Eleventh Court, the US Court of Appeals for the Sixth Circuit, the US District Court for the North District of Georgia, and the US District Court for the Middle District of Georgia.
---