Main content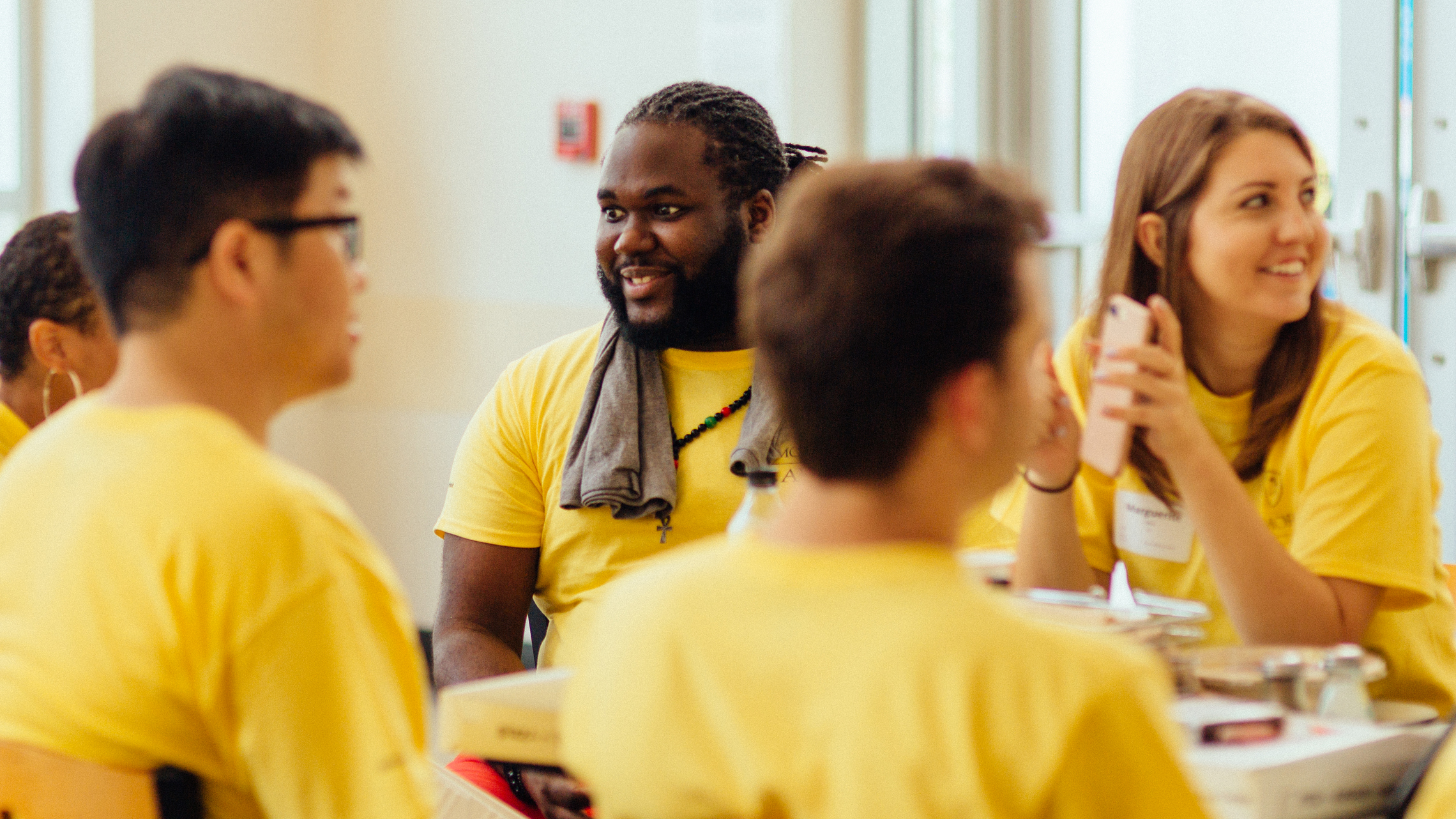 Key Dates
Welcome, Class of 2024!
Please refer to your admission letter for deposit due dates. If you have any questions, please call the Office of Admission at 404-727-6802.
Language of the Law Pre-Orientation (Optional)
August 2-6, 2021
Welcome Week 2021 (Required)
Week of August 9, 2021
Semester Begins
August 16, 2021
Dates are subject to change.
---
Pay Your Deposit
First Deposit
Step 1: Tell us your enrollment decision. This form is no longer accepting submissions  
Step 2: Submit your first deposit ($250)
To pay by credit card, e-check, or wire transfer: 
Go to OPUS to obtain your Emory Net ID and password.
Once you log in, you should see "Applicant" at the top cente r of the screen.
Click the "Admissions" tile.
Click the "Pay Admission Deposit" button.
Follow the prompts to pay the deposit via electronic check, credit card, or wire transfer. Please note that hard copy checks cannot be accepted. 
Credit cards processing fees may apply. 
Second Deposit
Step 1: Update your enrollment decision. This form is closed as of 6:59 p.m. June 1, 2021.
Step 2: Submit your second deposit ($1,000) by following the instructions above.
Tuition deposits are nonrefundable and will be credited to your student account.
---
New Student Checklist
As you prepare to join us at Emory Law, we have a checklist of actions and forms to complete.
Register for WelcomeWeek by completing this form »
Final Transcript The American Bar Association requires Emory Law to receive a final transcript indicating the date of your undergraduate degree conferral. If LSAC does not have this final transcript in your Credential Assembly Service (CAS) report, please have your final transcript sent to Emory Law's Office of Admission, 1301 Clifton Road NE, Atlanta, GA 30322.
Health Forms and Insurance Requirements Complete all required student health information and health forms online with Emory University's online Health Services Portal »
Review our Laptop and Computer Recommendations Emory Law students are required to own a computer. We recommend that you invest in a new notebook computer from a reputable manufacturer with a three-year warranty. Try to purchase a notebook computer that balances light weight and long battery life. Most exams are taken on computer and most faculty members permit students to take notes on computer in class. The law school supports both Mac and Windows systems. The University provides anti-virus software and the University plans to provide Microsoft Office365 to students beginning in Fall, 2014. Barnes and Noble at Emory offers an excellent bundle package for students' technological needs. Learn more »
Complete the Sexual Assault Prevention for Graduate Students All incoming Emory University students are required to complete the Sexual Assault Prevention for Graduate Students (SAP-G) education module. SAP-G is an online learning platform designed to empower you to make well-informed decisions about issues that affect your years at Emory and beyond. It takes approximately 45 minutes to complete (closed captioning is available for video portions). You will receive an email to your Emory email address with instructions on how to complete the module. More information will be shared in Summer 2021.
Set Up Your Network ID and Password Your NetID allows you to access OPUS (Online Pathway to University Students) » Set up your Network ID here » 
Log In to OPUS (Online Pathway to University Students),

 

your portal to student accounts, the registrar, and many other services at Emory. Explore OPUS and get familiar with the resources you will use as an Emory Law student. Submit a help request if you cannot log in or access OPUS. Include your first and last name and your Emory Net ID. DO NOT INCLUDE YOUR PASSWORD.
Create an Emory Email Account Your Emory Email address will be available later this summer. You will access your account using the same NetID and password that you use for OPUS access. Your email address is your NETID(at)emory.edu.
Upload Your Photo for Your EmoryCard (Student ID) » The EmoryCard is the official ID Card of Emory University. It permits access to facilities and events and can be used to purchase goods and services at the university and at a wide range of merchants throughout the community. The image you upload must be on a white or solid neutral background. More information regarding your EmoryCard can be found here »

Prior to your arrival on campus the EmoryCard team will be producing your official Emory University Identification Card along with cards for thousands of other new students! To prepare, all incoming students (in-person and virtual) must upload a photo to the EmoryCard Photo Upload website. If you are experiencing any difficulty with this process, EmoryCard will be offering Zoom sessions for PC and MAC users where you can receive 1-on-1 assistance with a member of the EmoryCard team. Prior to joining the session, please prepare:


• Upon logging into the Zoom, please ensure that your name displays your full name and the time (EST) you logged in (i.e. Swoop the Eagle 9:47am EST)




• A Photo of Yourself and Image of your Government Issued ID in .jpg file format, saved to your Desktop.




• You will also need to know your 7-Digit Student ID Number, NetID and Password.



PHOTO UPLOAD HELP SESSIONS:
To receive the Zoom link and password, please email Carol C. Riddock. 


• Tuesday, July 6 @ 9am to 11am




• Tuesday, July 13 @ 9am to 11am and 1pm to 4pm




• Monday, July 26 @ 10am to 12pm




• Tuesday, July 27 @ 10 am to 12pm and 2pm to 4pm




• Friday, July 30 @ 9:30 am to 12pm and 2pm to 4pm




• Tuesday, August 3 @ 9:30 am to 12pm and 2pm to 4pm
---
Housing
Emory University does not provide on-campus graduate housing. Emory's Off-Campus Housing website can assist you in finding housing in the area. 
While we are unable to recommend specific properties, there are several nearby complexes to consider. Download information about the apartment complexes that participated in the Admitted Student Housing Fair.
You may also want to network with peers via the Class of 2024 Facebook group for roommate opportunities.
Students with disabilities can contact Emory's Office of Disability Services for specific information on obtaining an Individualized Accommodation Plan
---
Language of the Law: Concepts and Insights
COURSE OVERVIEW
The Language of the Law: Concepts and Insights bootcamp is an optional program that offers incoming first-year students an introduction to the fundamentals of legal information. The course introduces students to the four types of law that govern our democratic society (constitutional law, statutory law, regulatory law and case law) and helps them begin to understand how they intersect and overlap with each other in appication, creating a strong foundation students will benefit from throughout their law school career. 
Registration will be available in late June. 
---
Summer Preparatory Opportunities
There are a number of books and programs available that can help you prepare for your first classes, some with scholarship or reimbursement opportunities. Assistant Dean for Academic Engagement and Student Success Katherine Brokaw will guide you through these programs in this video, which can help you determine which opportunities you'd like to pursue.
 
You can also review more information, including eligibility, program duration, scholarship opportunities, and deadlines at this page on our website. We highly encourage students participate in the listed programs as they will give you helpful tools for your academic success.
---
Section Schedules & Book Lists
Section assignments and book lists will be available in August 2021.
---
Download 

Class of 2024 Zoom Backgrounds

Celebrate your decision to attend Emory Law with Class of 2024 zoom backgrounds! Download the images below to add them to your zoom account when you attend Explore Emory Law events in March and April: 
---
First-year Resources
Taking a bar review course is a vital part of your Emory Law education. If you make a deposit earlier in your law school career, you can receive educational benefits that support your academic strategies during law school. Get more information from two of our partners.