Main content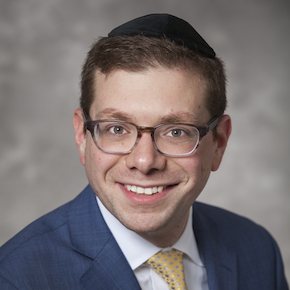 Areas of Expertise
Constitutional Law, Law and Religion, 14th Amendment, 1st Amendment, Islamic Law, Jewish Law
---
Courses
Constitutional Law I, 14th Amendment: Historical Perspectives, Jurisprudence, Jewish Law, Islamic Law, Law and Religion: Theory and Methods
---
Biography
Shlomo Pill serves as Lecturer in Law and as the Paul and Marion Kuntz Scholar in Law and Religion in Emory's Center for the Study of Law and Religion. Pill's research focuses on constitutional interpretation and jurisprudence; religion in American constitutional law; Jewish and Islamic law as tools for understanding and reassessing issues in American jurisprudence; and law and public policy as foundations for interreligious engagement between different faith communities in pluralistic societies. His current projects include a studies on traditional Jewish and Islamic religious law perspectives on religious freedom and the relationship between religious norms and state law, as well as a book exploring some of the ways that similar Jewish and Islamic law perspectives on legal disagreement and uncertainty may offer a helpful perspective on a range of issues in American law and legal culture. In addition to his teaching and scholarship, Pill directs the Center for the Study of Law and Religion's Study on Law and Ministry in the United States, a multiyear imitative funded by the Lilly Endowment that is mapping the ways the ways that Christian clergy and religious organizations interact with state and federal laws as a precursor to a larger project developing legal training resources for Christian ministry professionals.
An ordained rabbi with academic training in Islamic jurisprudence, Pill previously served as Visiting Assistant Professor of American Law and Religion at Emory's Candler School of Theology, and has taught courses at Emory College's TAM Institute for Jewish Studies and the Department for Middle Eastern and South Asian Studies. Pill consults regularly on matters pertaining to religious liberty and the law of religious organizations, and is a frequent lecturer to academic and popular audiences on issues of law, religion, and interfaith engagement.
Pill's articles have been published in the Buffalo Law Review, Mississippi Law Journal, Harvard Journal of Racial and Ethnic Justice, Pepperdine Dispute Resolution Journal, Touro Law Review, and other academic and popular outlets. His recent book, Setting the Table: An Introduction to the Jurisprudence of Rabbi Yechiel Mikhel Epstein's Arukh Hashulhan (with Michael J. Broyde) was published by Academic Studies Press in January 2021.
Education: SJD and LLM, Law and Religion, Emory University School of Law; JD, Fordham University School of Law; BA, Political Science and history, Lander College for Men, Touro College
---