Main content
Honors and Awards
Emory Law honors Class of 2013 at graduation ceremonies
Emory University School of Law |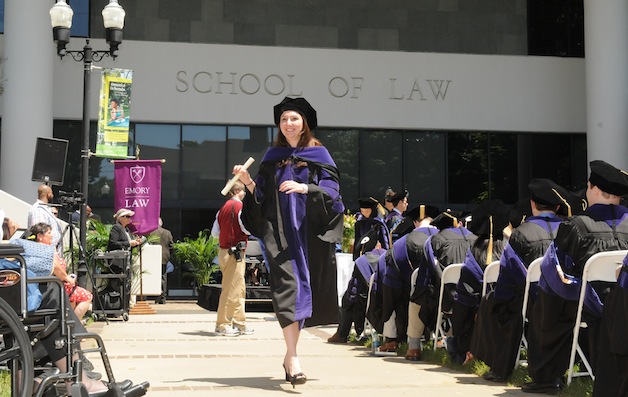 A crisp spring morning provided the backdrop for Emory Law's 2013 graduation ceremonies held May 13, 2013, on Gambrell Hall's south lawn.
Per tradition, the 330 graduates were saluted with bagpipes and drums as they descended Gambrell's steps. The audience was greeted with opening remarks by Emory Law Dean Robert A. Schapiro.
The hard work, friendships, and academic discipline that go into earning a law degree "allow us to grow, permitting us a fuller capacity to live fully considered lives," Schapiro said. "Remember these years as a time giving you a better understanding of the possibilities of your life."
Della Wager Wells 86L, president of the Emory Law Alumni Association, welcomed new graduates into the alumni fold.
"A lawyer's education is never complete," she said. "Law, like most worthwhile disciplines, is an evolving body. And you're just beginning the best part of your law school education."
Casson Wen 13L was twice honored by his peers, receiving both the Minister Gloria Jean Fowler Angel Award and Most Outstanding Third-Year Student Award. During his remarks, Wen received applause for his analogy of how law school is like a three-year triathlon.
"First year is all about swimming," he said. "It's all about treading water and not drowning as wave after wave of deadlines crash down upon you. All you can do is pray that you don't cramp.
"Second year is all about biking… you feel like you're going in circles and spinning your tires. You wonder if you'll ever make it to the finish line. You can see the finish line from where you are. But it's a whole marathon of a year away," he said.
"And that's what the third year is, running. Today, I'm pleased to announce that we crossed this finish line, and we crossed it together. What makes this feat truly outstanding? It's not just that we finished the race, but more importantly, it's how we finished the race," he said.
Dean Schapiro announced Professor Martha Grace Duncan as recipient of the Emory Williams Teaching Award. Professor Polly Price received the Ben F. Johnson Faculty Excellence Award.
"Most Outstanding Professor" is awarded by student vote, and went to Professor Kay Levine. Levine cited the influence of great teachers upon her life and career—not only her professors at Duke and UC-Berkeley, but also her mother, a chemistry professor, and her husband, who teaches fourth-graders science and math.
Levine cited the remarks of Emory University's 1995 commencement speaker, baseball hall-of-famer Henry "Hank" Aaron.
"Playing ball or practicing law, a person gets just an occasional opportunity to do something great," she said, quoting Aaron. "And when the time comes, just two things matter: how well-prepared you are to seize the moment and whether you have the courage to take your best swing."
"Of all the timeless messages that I thought you might take with you today, this one, I felt, was particularly worthy," Levine said. "Appreciate the value of preparation and courage."
"Fascism, racism, sexism, oppression of religious and ethnic and sexual minorities, the destruction of the environment, the erosion of the Bill of Rights, all of these are problems on the world stage that deserve your attention," Levine said. "But these problems also exist in our own backyards, in workplaces and communities across the United States. And if you tolerate injustice at the local level, we can't hope to make a dent in the worldwide problem."
"You have the power and the tools to do something that can influence the history of your generation," Levine continued. "But you need the courage to do it, to step up to the plate and swing for the fence when the time comes."
The law school's hooding and diploma ceremony was preceded by Emory University's 168th Commencement on Emory's Quadrangle.
The 3L Class Gift Committee co-chairs Jacob Greenberg 13L and Jeanette Linville 13L presented a check for $25,933, the class donation to their alma mater.
Degrees awarded for the class of 2013 included Doctor of Law and Doctor of Philosophy; Doctor of Law and Master of Business Administration; Doctor of Law and Master of Divinity; Doctor of Law and Master of Public Health; Doctor of Law and TI:GER Program Certificate in Intellectual Property; Doctor of Law and Certificate in Transactional Law and Skills; Doctor of Law; Doctor of Juridical Science; Master of Laws; and Juris Master.
Related Links
Photo album from 2013 Hooding and Diploma Ceremony »
---
Tags