Main content
Students
Iqbal 23L seeks to build community in a cold world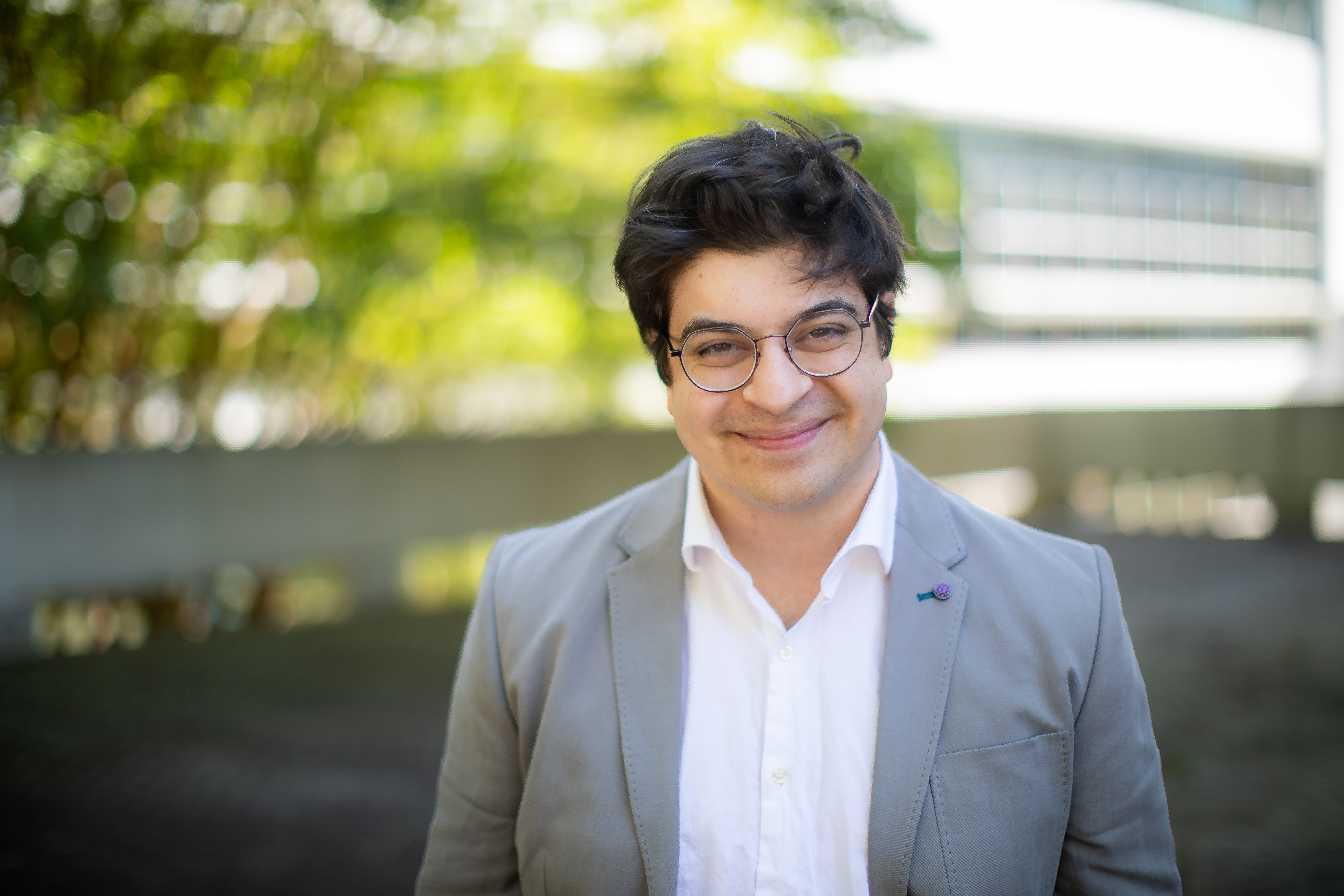 "Coming to law school, for me, has been a valuable exercise in growing as a person, figuring out what is meaningful for me, and determining what I want to spend my energy pursuing," says Adriano Omar Iqbal 23L, editor-in-chief of the Emory Bankruptcy Developments Journal and future trial attorney for the U.S. Trustee Program—the Department of Justice's bankruptcy oversight arm. What he found, he says, is that he has an ethical imperative to help people to grow from perceived failures by creating an atmosphere of community and belonging.  
The journal Iqbal leads, EBDJ, is unique among the country's bankruptcy journals as a largely self-funded, fully student-run publication. In the forty years since its founding, EBDJ's articles have been cited by every Circuit Court of Appeals in the country and multiple times by SCOTUS. It also has the largest subscriber base among the law school's traditional law journals.  
EBDJ—and the sense of belonging it created for Iqbal—is a throughline of his law school story. "I did not have a good 1L year," he admits. "I pulled it up as I figured things out, but I could easily have carried that perceived failure with me through to the next year. Temperamentally and emotionally, I tend toward the brittle and neurotic," he jokes.  
But membership on the journal helped mitigate that for him. "It requires a lot of help and a lot of cooperation, and a sort of shared vision, right? If people are determined to do it, it can be done. I am really lucky because I have 70 people who are extraordinarily patient with me. It's been proof-of-concept for me that if you're intentional about what you're doing, and you just consistently take little humane steps, you really can effectuate cultural shift at the organizational level." 
He also found profound support and guidance from faculty. After completing his undergraduate degree at Harvard, Iqbal came to Emory with an interest in criminal defense work. "I think that that's still the position that's most consistent with my ideological obligations. I think it's essential, deeply honorable work. Unfortunately, I realized pretty quickly that I just didn't have what it takes to do it—that I was insufficient to the task. But that interest led me to Professor Levine's criminal procedure class in the fall of my 2L year, and I made it a point every year, every semester after to take a class from her if she was offering it." Professor Kay Levine, he says, was the most important faculty member for his journey toward the juris doctor degree he earns this May. "She embodies effective law school pedagogy and mentorship," he added.  
Levine equally admires Iqbal: "When we get a chance to teach students who demonstrate not only a powerful intellect, but also unbounded creativity and joy of learning, we are reminded why we became law professors in the first place. Adriano is one such student in Emory's class of 2023. He brings enthusiasm, smarts, and good judgment to every aspect of law school, from class discussions to running the EBDJ. He has an unusual capacity to turn a classroom assignment or exam question into an outlet for creative thinking and problem-solving, and in so doing inspires me to be a better and more creative teacher," she says. 
Only Forward 
Iqbal's parents are both physicians, and his sister Sabina Iqbal 23C—an Emory undergrad—heads to medical school this fall. He notes that he is blazing no trails and did not face pressure to change his family's legacy. He jokes that his goal is to avoid setting it back. (He has avoided it well.) 
But he says failure is a gift, and he's been fortunate to experience it in his lifetime. It's not lost on him that it is a privilege to be able to grow from failure, and that his family's material support is the only reason he didn't get crushed by it instead. He hopes to bring that sense of gratitude with him into his new career as a bankruptcy attorney. "As someone who has received probably too many second chances, I really resonate deeply with the bankruptcy system's goal of giving people and institutions a shot at a fresh start. To me, that's worth protecting." What's more, law school has taught him how much power he has to effect change.  
"I have a lot of agency in terms of structuring the communities that I'm part of. I don't have to be a passive observer. Whatever group culture I come into, I can try to leverage my own small abilities to create community at every possible level. I've become convinced of the value and the viability of that is an approach to just about everything. The world is plenty cold, and it can be so especially in this profession. I just hope to be relentlessly kind wherever I can." 
---
Tags