Main content
Alumni
Claudia A. Chafloque-Siu 19L: sacrifice, support seeds of her success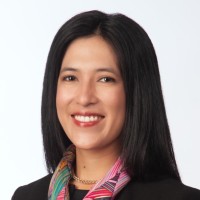 In honor of Hispanic Heritage Month, meet Emory Law alumna Claudia A. Chafloque-Siu 19L. "Because my entire family partnered with me to obtain my American education, I know that I owe them, although it is unstated. It is understood. The collective sacrifice and support of my family was the seed they planted for my success," Chafloque-Siu wrote in 2020. "I watered my parents' seed with my ambition to grab a hold of the opportunities in America, because I knew as a woman of color I could have them nowhere else, and certainly not in the world that I came from." 
Her Peruvian-Chinese family history dates back to her grandfather fleeing civil war in China. He arrived in Lima in 1930, where he met and married her grandmother, an indigenous Peruvian who was orphaned at age 8. Chafloque-Siu's parents are both first generation college educated, both engineers who pursued graduate degrees in Mexico, then elected to stay because of Shining Path terrorism in Peru. 
Chafloque-Siu joined Kilpatrick Townsend & Stockton this summer, where she specializes in capital markets and real estate finance, drawing upon her legal experience in both Mexico and the US.  
Last year, she was a platinum-level member of the Georgia Bar's pro bono honor roll, which recognizes at least 100 hours of pro bono work in a calendar year. Back in 2020, she found parallels in her path and the career of Vice President Kamala Harris: "Her election as the first woman of color, first daughter of immigrants to become vice president of the most powerful nation in the world—leader of the free world—means more to me than the shattering of a glass ceiling. It is about what she can do to restore the stolen humanity of brown and dark-skinned people," Chafloque-Siu wrote in a 2020 essay. 
She earned her LLB at the Universidad Nacional Autónoma de México, and came to Atlanta via a job at the Mexican Consulate, where she escorted terminally ill undocumented Mexicans home and helped them locate medical attention or spend their final days alongside their loved ones. 
"These young Mexican men who crossed the border to escape the poverty of Mexico were often alienated and severed from their families back home. Many had lost all contact with their people in Mexico," she wrote. "I knew I had to go to law school in America. I had to arm myself with American law. The dehumanization I came to know that undocumented Mexican immigrants went through took a toll on me. I became interested in learning more about undocumented immigrants from my native Mexico, who had indigenous heritage like me, who fled to America in search of hope for a better life—just like me, albeit a different route".
Chafloque-Siu was president of the International Law Student Association and earned the Dean's Service Award while at Emory Law. She was on staff at the Emory International Law Review. A member of the Immigration Law Society, she was also a case manager for the International Refugee Assistance Project. In addition to her LLB degree, she holds a paralegal certificate, an LLM and JD from Emory. Licensed to practice in Mexico, she is also a member of the State Bar of Georgia and the District of Columbia. As of 2023, she's a board member of the Atlanta Bar Association, junior board member of Pro Bono Partnership of Atlanta and co-chair of the Georgia Asian Pacific American Bar Association's Women's Leadership Network. She's been a member of the American Bar Association, the Georgia Hispanic Bar Association, the American Immigration Lawyers Association, and the Georgia Latino Law Foundation since 2016. 
---
Tags