Main content
Announcements
Richard D. Freer named next dean of Emory University School of Law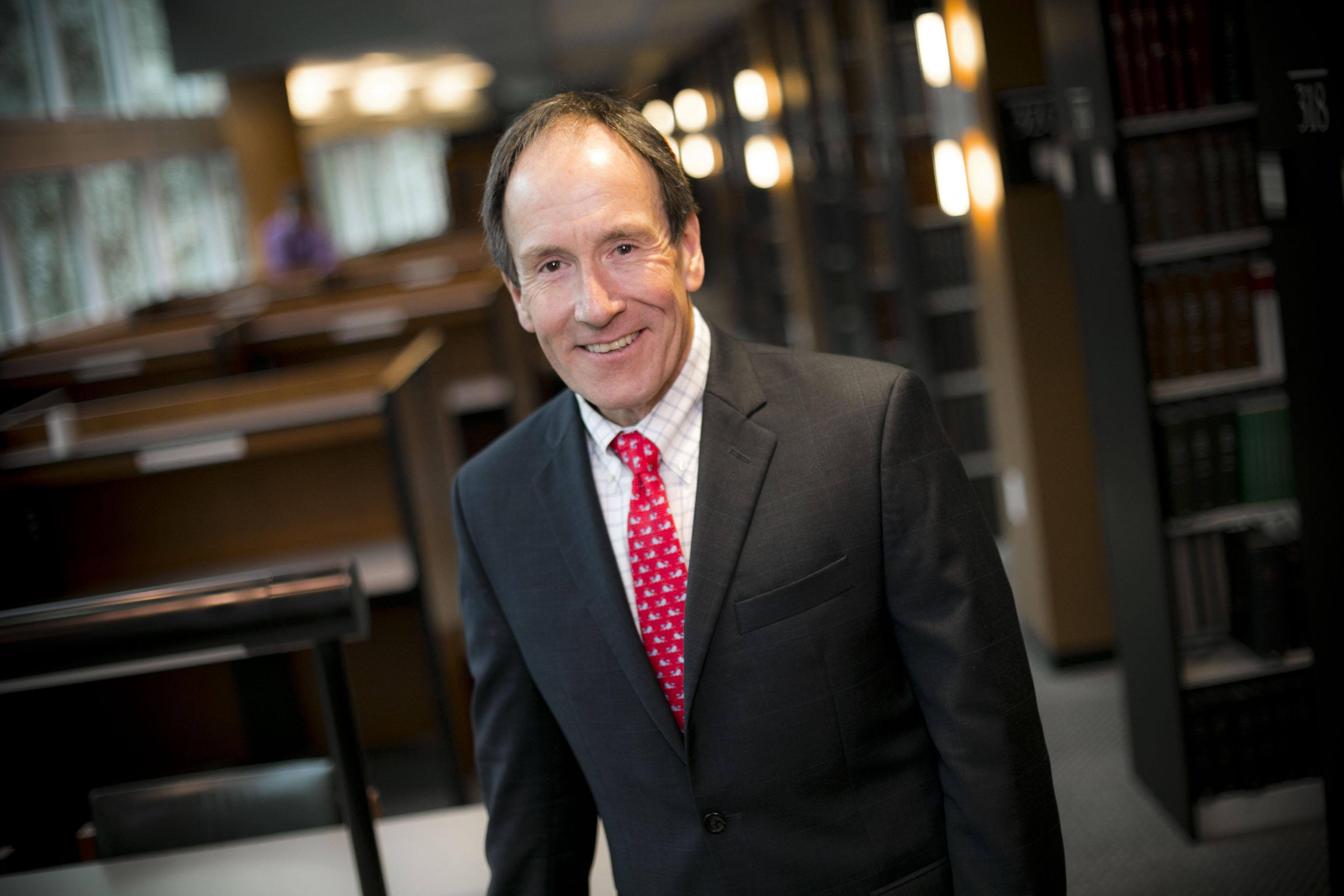 Richard D. Freer, Charles Howard Candler Professor of Law, a renowned expert on civil procedure, award-winning teacher and experienced leader, has been appointed as the next dean of Emory University School of Law. He will s­­tep into the role July 1, 2024, at the conclusion of Dean Mary Anne Bobinski's five-year term.
"Richard Freer has a storied history at Emory, inspiring generations of law students through his teaching, mentorship and scholarship," says President Gregory L. Fenves. "He has a deep understanding of the opportunities at Emory Law, and as dean, will provide the focused, thoughtful leadership needed to elevate the school in the years ahead."
Freer's appointment was announced by Provost Ravi V. Bellamkonda on Nov. 1, 2023, following an internal search launched after Bobinski's previously announced decision to return to the faculty and informed by extensive conversations with the Emory Law community, including faculty, staff, students and alumni.
"President Fenves and I are ambitious for Emory Law," says Bellamkonda. "We are committed to investing in its success, and believe Rich's strong leadership experience and deep knowledge of Emory Law's strengths will accelerate its advancement toward its goals while building upon the progress Dean Bobinski and others continue to drive forward. I am grateful to the search advisory committee for their diligent work."
As dean, Freer will focus on supporting student flourishing across academic, professional and personal dimensions; cultivating and enhancing the academic eminence of a faculty widely recognized as among the nation's finest community of legal scholars; and enhancing the bonds within Emory Law and with alumni, the bench, bar, business and philanthropic communities.
"We are confident that under Rich's leadership, Emory Law will realize its highest potential in service to our students, society and the legal profession as well as help our entire institution achieve its bold ambition of being a university without peer," says Bellamkonda.
A focus on fundamentals
Freer's priorities flow from the school's core mission: to educate sophisticated, principled lawyers who can flourish in the practice of law anywhere. "Our alumni are equipped with the education and skill and have the character to serve clients in any milieu, and to lead their legal and broader communities," Freer says. "The practice of law is a noble calling; our students will join our alumni in serving it with excellence and distinction."
One clear priority will be to enhance the student experience, creating an integrated and innovative network of support. The goal is student flourishing, which, Freer says, is not the same as happiness: "Happiness is temporary; flourishing is long-term: knowing that one is equipped to hit the decks running and excel in the profession."
Freer takes his responsibility to Emory Law students seriously, and that includes continually evaluating their educational experience and ensuring they are prepared for professional life. "Are we providing our students with the education, skills, mentorship and connections that allow them to flourish as lawyers?" he asks.
Freer sees alumni as an important part of those efforts, noting, "We will build even stronger relations with our alumni, seeking their guidance and engagement in new ways and emphasizing that being an Emory lawyer starts from the day of one's admission to school and extends for a lifetime."
Another key focus will be fostering faculty eminence. "Our faculty is an acclaimed community of scholars of impact," he says. "And our exceptional recent hiring under Dean Bobinski's leadership has brought even more energy and productivity." Freer looks forward to enhancing and celebrating further scholarly contributions of the faculty, enhancing its recognition and influence. "Ultimately, with all our diverse scholarly interests, we all serve to enhance the rule of law."
A remarkable record at Emory
During Freer's 40-year tenure at Emory Law, he has been relentlessly future-facing, making considerable scholarly, administrative and pedagogical contributions that have prepared him well to lead the school.
A prolific scholar, Freer has authored or co-authored 17 books and more than 40 articles and essays in law journals, including NYU Law Review, Northwestern University Law Review, Duke Law Journal and the Texas Law Review. He has been elected a life member of the American Law Institute and serves as an academic fellow of the Pound Institute for Justice.
Through leadership roles – including the university associate vice provost for academic affairs, Emory Law associate dean of faculty, chair of the university's Tenure and Promotion Advisory Committee and chair of more than a dozen law school committees – Freer champions a collaborative approach to decision-making, encouraging robust discussion and forging consensus. "We want to have buy-in, to hear different points of view before deciding on action." 
Freer is also a beloved teacher who has continually worked to build and establish best practices of legal education. The three classes he teaches—Civil Procedure, Complex Litigation, and Business Associations—allow Freer to provide more than 300 students each year with a strong legal foundation. In addition, as a national lecturer for BARBRI Bar Review, he has lectured to more than 500,000 bar exam candidates nationwide. Recognized as Outstanding Professor of Emory Law ten times and five times as Professor of the Year by Emory's Black Law Students Association, Freer is also a recipient of Emory University's Scholar/Teacher Award and Emory Williams University Teaching Award.
A new turn on the career path
As Freer himself notes, it is not typical to seek a deanship after 40 years on the faculty. Yet in discussing the move with his wife, Louise Freer, he saw that the law school today in many ways resembles the time when he started at Emory, in the transformational era following the Woodruff gift of 1979. "I was part of a generational shift on the faculty. We joined with senior leaders to move the school from regional to national prominence. I came to Emory because I sensed that it was hungry, ambitious, on the move."
He sees the school in a similar place now, with another generational shift on the faculty creating an opportunity to capitalize on outstanding recent hiring: "We are a nationally prominent school with enormous potential. And we are integral to an exceptional university that is committed to and robustly supportive of our future."
A self-described Emory "lifer," Freer adds that "The opportunity to serve as dean—to finish my career as I started it, leading an exciting new push forward—is a singular honor. I am so grateful for the chance to serve our school as the capstone of my career."
His enthusiasm is shared by Bellamkonda and others, including Search Advisory Committee co-chair Joanna Shepherd. "I'm very excited that the university has selected Rich Freer to be the next dean of Emory Law," says Shepherd, Thomas Simmons Professor of Law. "During the 20 years that I've worked with Rich, I've admired his enduring commitment to his students, his legal scholarship, our law school colleagues and the broader university community. I'm confident that Emory Law will thrive under Rich's leadership as he focuses on building community within the school, enhancing alumni involvement, expanding ties to the Atlanta and national legal communities, and cultivating student achievement and satisfaction."
Mary Anne Bobinski, who continues as Emory Law dean through the current academic year, also expressed support for her successor. "Professor Freer is an outstanding scholar and an award-winning teacher who has held important academic leadership roles in the law school and university," she said. "Thousands of Emory Law alumni are familiar with his dedication to student success and his warmth and compassion. My colleagues and I look forward to continuing to advance Emory Law's national leadership in legal education and our focus on student success—and to supporting Professor Freer's transition into the dean's office next summer."
The team spirit Freer has long cultivated is clearly alive and well as he prepares to lead the community forward. "What a great time to be at Emory Law," he says. "This is a time for energy, dedication, and enthusiasm. For optimism and action. Most exciting of all, we will do these things together—as a large, diverse team of faculty, students, staff, alumni and friends dedicated to our mission."
---
Tags