Main content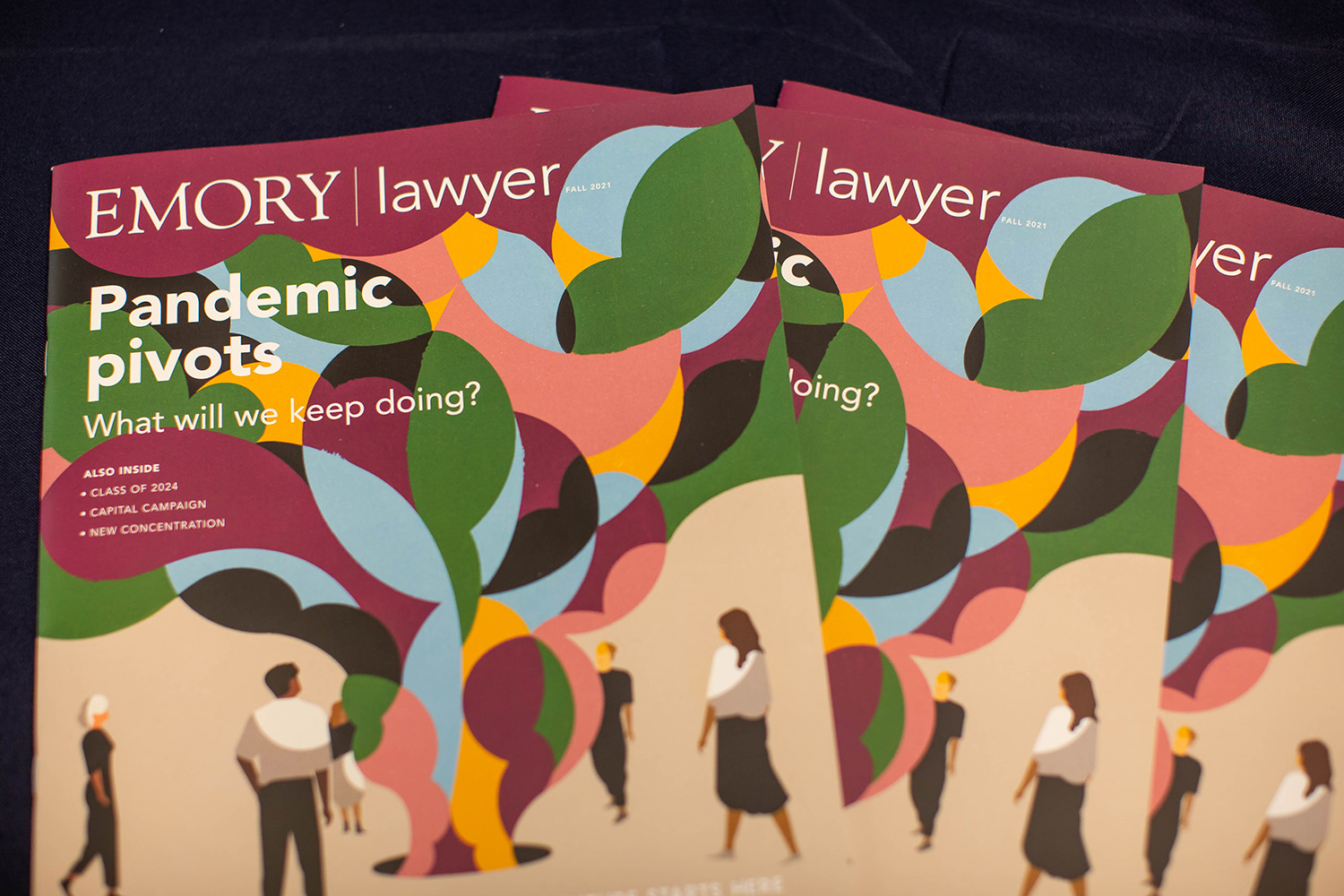 Mission
The Office of Communication seeks to develop content that presents Emory Law as a preeminent graduate school of inquisitive and innovative learners, preparing students to hold fulfilling legal careers, enrich their communities, and affect positive societal transformation by advancing the rule of law in our world. 
---
What We Do
The Office of Communication supports the strategic initiatives of Emory Law by working in collaboration with staff, faculty, alumni, and students to:
Build and protect the law school's reputation,
Support recruitment efforts and drive applications,
Promote the scholarship of our faculty, centers, and students,
Raise awareness of signature offerings, such as transactional law, TI:GER, advocacy, and health law, and
Engage audiences in specific programs and actions.
---
Our Team
A. Kenyatta Greer, Senior Director of Communication

Kenyatta oversees content development and execution, strategic communications, and marketing programming across all communication delivery channels associated with the law school. She manages the staff within the Office of Communication and is a content creator.

404.727.4938 
---
Lisa Ashmore, Associate Director of Communication

Lisa publishes faculty news and scholarship and supports the Office of Advancement and Alumni Engagement with alumni news, class notes, and event promotion. She edits Insights, faculty scholarship news, and is a general assignment writer and editor for the communications office.
---
Tierra Copeland, Event and Student Support Manager 
Tierra plans and executes law school events led by students, faculty, staff, and affiliated others, including the Law School Diploma Recognition Ceremony (graduation). She manages all logistics and coordinates with communications colleagues for marketing collateral. 
404.727.1289
---
Tayo Fayemi, Online Communication Manager 
Tayo oversees content creation, maintenance and reporting for the law school's website social media accounts in order to highlight faculty/student/staff accomplishments and increase awareness of and positive sentiment towards the school.  
404.712.8404
---
Grayce Jones, Program Coordinator, Law Journals 
Grayce works with the student editors, submitters, vendors, and faculty, to successfully publish and distribute four of the five Emory Law journals. 
404.727.0655
---
Jasmine Reese, Associate Director of Communication 
Jasmine helps execute media relations activities, writes editorial content, and explores the use of new and emerging media in editorial content development for various audiences.  
404.727.6988
---
Contacting the Office of Communication
Reach us at lawcommunications@emory.edu. You can also follow the law school (and direct message us) on any of the platforms below.
---
Publications
The Office of Communication is responsible for publishing Emory Lawyer magazine online and in print twice a year and Emory Law Insights online and in print once or twice per year. 
---
Media Relations/Experts
From pioneering feminism and the law, to fighting for veterans, our faculty cultivate positive influence — starting in the classroom. Many are trained and available for media commentary. 
---
Merchandise
Student and institutional organizations are required to use Emory promotional vendors for T-shirts or other promotional items that bear the Emory name or logo. By doing so, the Emory branding team will approve the design, and the Office of Communications be notified. Merchandise guidelines, including vendor contacts, are located on the Emory website. 
---
Digital Screens
The digital billboards stationed throughout the law school. You can submit a flier to be reviewed and added to the screens using the MarCom Request Form . Please make sure your flier fits within the required dimensions: 1080 x 960 px. If it does not, we may be able to help get it to the approved dimensions before uploading. 
---
Virtual Backgrounds
Emory Law images are available for teleconference backgrounds. Click the images for full resolution image files.
---
Religious Holidays and Observances
Consider referring to the university's list of religious holidays and observances as you plan your event. 
---