Main content
Honors and Awards
Georgia State Bar honors two Emory Law professors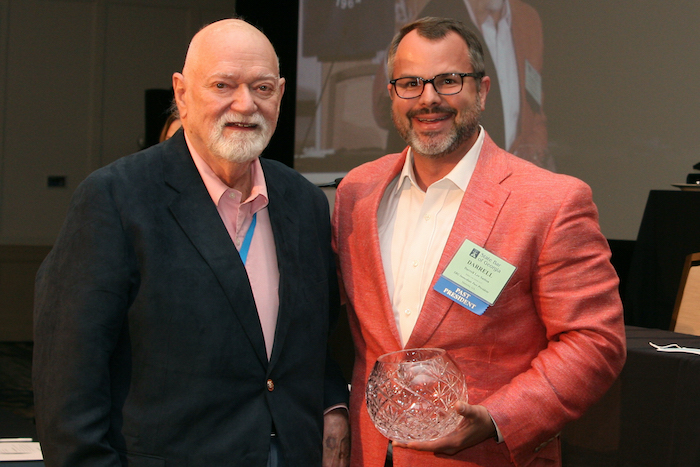 Associate Dean A. James Elliott, Georgia State Bar Past-President Darrell Sutton
In June, the State Bar of Georgia recognized two Emory Law professors for professionalism, distinguished practice, and service to others.
Associate Dean A. James Elliott 63C 66L received the 2020 Chief Justice Thomas O. Marshall Professionalism Award. Professor of Law Emeritus Charles A. Shanor was honored with the 2019 Marshall-Tuttle Award. Both awards were presented on June 11, 2021, during the Bar's annual meeting.
The Chief Justice Thomas O. Marshall Professionalism Awards are annually presented by past presidents of the State Bar of Georgia to honor one lawyer and one judge who continually demonstrate the highest professional conduct.
Dean Elliott practiced with Alston & Bird in Atlanta for 28 years prior to returning to Emory Law, where he teaches Banking Law, Doing Deals: Commercial Real Estate, and Legal Profession (Ethics). He is a past president of the State Bar of Georgia and of its Young Lawyers Division and has served on several Supreme Court commissions dealing with professionalism and lawyer discipline. He co-founded Georgia's legal services program, which has helped almost one million poor Georgians, and also, Georgia's mandatory IOLTA (Interest on Lawyers' Trust Accounts) program, which has raised $100,000,000 for legal charities. He is a fellow of the American College of Real Estate Lawyers, as well as the American and Georgia Bar Foundations.
The Marshall-Tuttle Award is presented by the Military Legal Assistance Program Committee to a lawyer who provides outstanding legal assistance to service members and veterans. It is named in honor of both US Army Cpl. Evan Andrew Marshall of Athens, Georgia, who was killed in action in Iraq in 2008, and US Circuit Judge Elbert Parr Tuttle, who served in the Army for 30 years. Professor Shanor served as Tuttle's law clerk before joining the Emory Law faculty in 1975.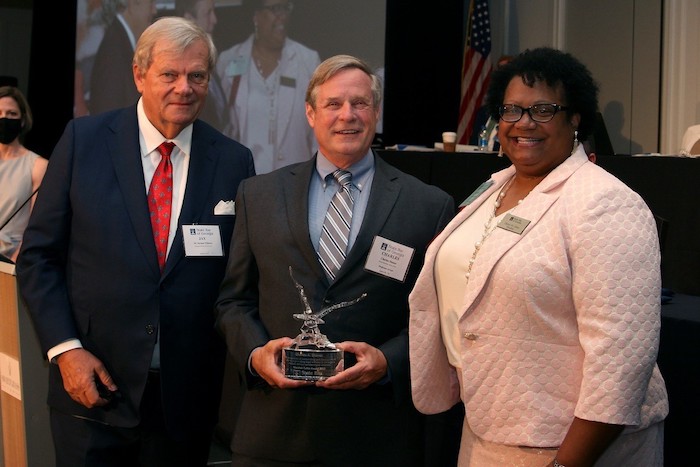 Military Legal Assistance Program Chair Jay Elmore 76L, Professor Charles A. Shanor, and 2020-21 State Bar of Georgia President Dawn M. Jones.
In 2013, Shanor, Lane Dennard, and two student leaders founded the Emory Law Volunteer Clinic for Veterans. He has also written two books on military law. Shanor was instrumental in starting the Emory Bankruptcy Developments Journal, founding the International Humanitarian Law Clinic, and building the Elbert Parr Tuttle courtroom. He served as general counsel of the US Equal Employment Opportunity Commission for three years, and was also of counsel to Paul, Hastings, Janofsky and Walker for seven years. He has argued many cases before the US Courts of Appeals and one case before the US Supreme Court.
---
Tags