Main content
Faculty and Scholarship
Kristin Johnson joins Emory Law faculty, expanding corporate law program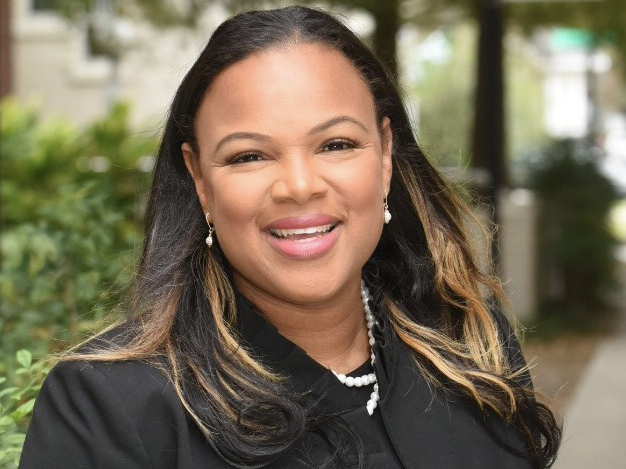 Emory University School of Law welcomes Kristin Johnson to the faculty beginning in January 2021. Johnson comes to Emory Law from Tulane University Law School where she is the McGlinchey Stafford Professor of Law, associate dean for faculty research, an affiliate of the Murphy Institute for Political Economy, and the Gordon Gamm Faculty Scholar. Johnson is nationally recognized as a leading scholar of financial markets regulation with research and teaching expertise in the areas of securities regulation, corporate governance, risk management, compliance, and innovative financial technology, including digital financial products and markets.
Johnson's research has been published and cited by numerous leading journals, including the William & Mary Law Review, George Washington University Law Review, University of Chicago Law Review Online, Washington Law Review, Journal of Corporate Law, Journal of International and Comparative Law and the Georgia Law Review. Her forthcoming books Artificial Intelligence & The Law: Cases, Materials, Problems & Ethical Considerations (with Carla Reyes and Jeff Ward) and the Cambridge University Press Research Handbook on Artificial Intelligence and the Law (with Carla Reyes) will be published in 2021. She has presented her research on systemic risk, risk management, cyber risk regulation, emerging technologies–such as artificial intelligence and distributed digital ledger technologies–and macroprudential financial markets regulation throughout the United States and abroad. She teaches Business Associations, Securities Regulation, and Artificial Intelligence and the Law, among other courses. 
Johnson is an elected member of the American Law Institute and an American Bar Association Fellow. She has served as a visiting professor at the University of California-Irvine, University of Florida, University of Illinois, and Washington & Lee University Law Schools.
She served as assistant general counsel and vice president at JP Morgan and an associate at Simpson, Thacher, and Bartlett LLP's New York and London offices. She clerked for the Honorable Joseph A. Greenaway Jr., then of the United States District Court for the District of New Jersey, elevated to the United States Court of Appeals for the Third Circuit.
Before law school, Johnson served as an analyst at Goldman, Sachs & Co. She is a graduate of Georgetown University's School of Foreign Service and received a bachelor of science degree in comparative economics, with honors, and the University of Michigan Law School, where she received a juris doctor and served as a notes editor on the Michigan Law Review.
Dean and Asa Griggs Candler Professor of Law Mary Anne Bobinski noted her excitement for Johnson's hire: "Emory Law is delighted to welcome Professor Johnson to our faculty. Professor Johnson's thought leadership and active engagement in emerging policy issues related to corporate law and finance will strengthen Emory Law's national and international profile in corporate law."  
Johnson joins more than a dozen other Emory Law faculty members who offer expertise in  corporate law, transactional law, and related fields such as tax and intellectual property law:
Thomas C. Arthur

, L. Q. C. Lamar Professor of Law (Antitrust Law)
Margo Bagley, Asa Griggs Candler Professor of Law (Biotechnology, Intellectual Property, Patent Law)

Dorothy A. Brown

,

Asa Griggs Candler Professor of Law (Federal Income Tax, Critical Race Theory, Corporate Tax, Tax Policy, Taxation)

Rich Freer

, Charles Howard Candler Professor of Law (Business Associations)

George S. Georgiev

, Associate Professor of Law (Business Law, Corporate Governance, Securities Regulation, Mergers & Acquisitions, Corporate Finance, Executive Compensation)

Tim Holbrook

, Vice Provost for Faculty Affairs, Asa Griggs Candler Professor of Law (Intellectual Property, International Patent Law, Patent Litigation, Patent Law, Trademark Law and Policy)

Jim Hughes, Jr.,

Associate Professor (Real Estate Sales and Finance)

Nicole Morris

, Professor of Practice and Director, TI:GER program (Technological Innovation: Generating Economic Results) (Intellectual Property Licensing, Intellectual Property Strategy, Patent Law, Patent Litigation & Prosecution)

Rafael Pardo, Robert T. Thompson Professor of Law (Bankruptcy, Commercial Law) 

Sue Payne

, William and Jane Carney Professor of Transactional Law and Practice and Executive Director, Center for Transactional Law and Practice (CTLP)

Jeffrey N. Pennell, Richard H. Clark Professor of Law (Federal Income Tax, Federal Wealth Transfer)

George Shepherd

, Professor of Law (

Corporate Law, Law and Economics).
Martin W. Sybblis, Assistant Professor (Commercial Law, Law and Development)
Liza Vertinsky

, Associate Professor (Regulation of Healthcare Markets and Technologies, Intellectual Property, Law & Economics)
 Emory Law is also home to the Emory Bankruptcy Developments Journal and the Emory Corporate Governance and Accountability Review.
---
Tags