Main content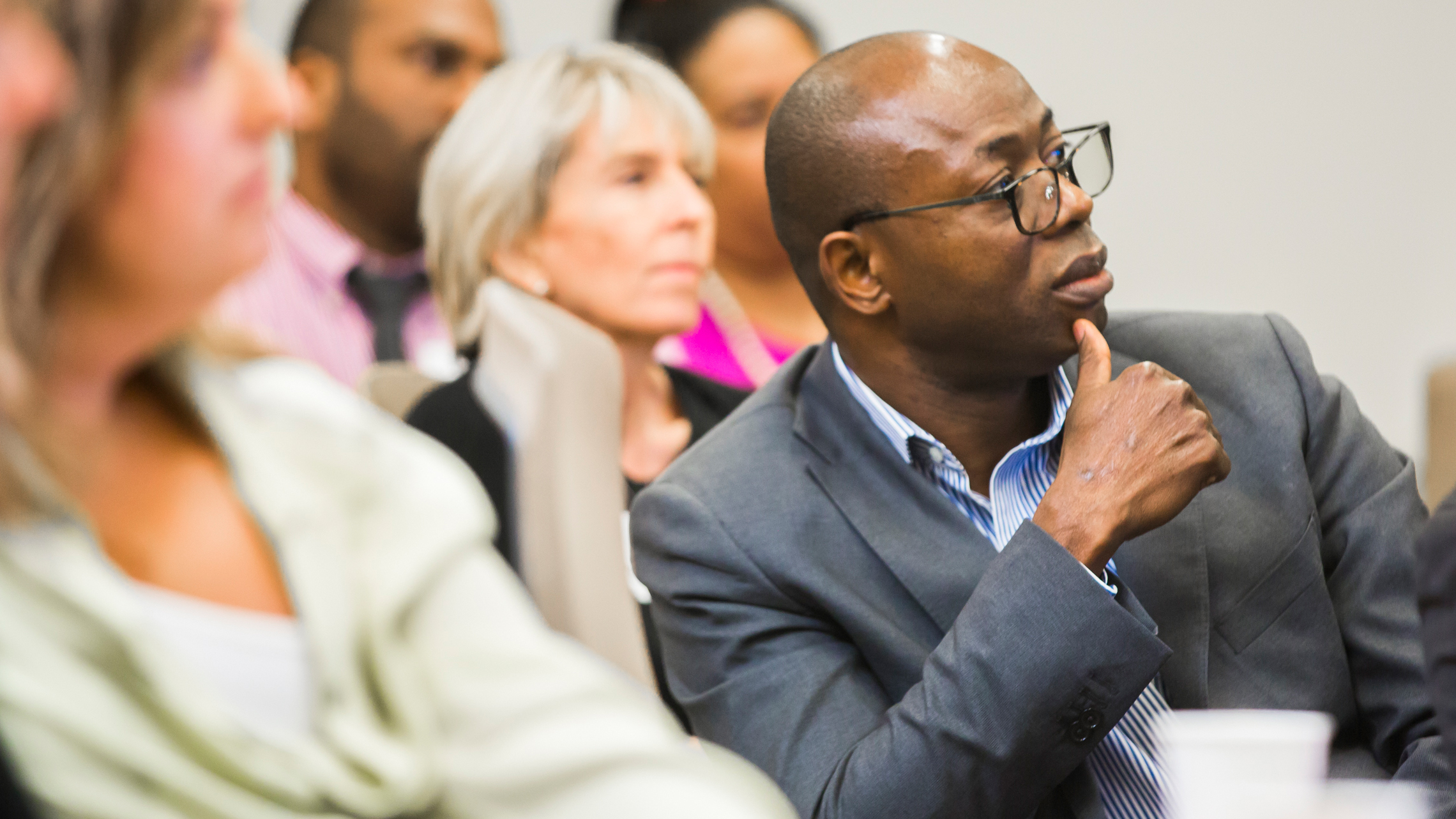 Admission
To be considered for admission into Emory Law's JM program, candidates must have received at least a bachelor's degree from an accredited college or university by the time of JM enrollment. Individuals already holding a first degree in law should consider the Master of Laws (LLM) program.
All applicants are considered holistically and admission is based on the applicant's academic training, professional background, personal statement, and professional and academic references. Two letters of recommendation from either current/former supervisors or current/former professors or academic advisors. No GRE or other testing scores are required.
An interview with one or more members of the JM admission committee (in person or via teleconference) is also required of applicants. Qualified candidates will be contacted to schedule the interview after an initial review of a completed application. Scholarships and financial aid are available; learn more about JM tuition and financial aid opportunities. 
---
To Apply
A complete application for the JM Program must include the following:
Official undergraduate and graduate transcripts
Brief personal statement describing your interest in the JM program
Resume or curriculum vitae
Two letters of recommendation
TOEFL score (required for applicants whose native language is not English)
$85 non-refundable application fee
Any application components not uploaded or included with the online JM application should be submitted to the Office of Admission:
Emory Law
Admission Office—JM Admission
1301 Clifton Road NE
Atlanta, GA 30322
USA
---
Deadlines
Candidates are considered for admission to both our fall (August) and spring (January) terms. Decisions are made on a rolling basis once an application is complete. There is no preference given to applications received during a given period. Candidates should apply when they feel they can submit the strongest application, though earlier applications can result in more time to prepare for enrollment.
Admission Deadlines
* The application deadline for Spring 2022 has been extended to December 1, 2022. Please contact jmadmission@emory.edu with any questions or to request a fee waiver. *
Both formats: 
Fall Semester:

 

early deadline, April 15; general deadline, 

June 30

Spring Semester:

 

early deadline, September 30; general deadline, November 15
---
English Language Ability
Students in the JM program should have English language skills at a level that enables them to read and discuss in class, difficult technical material. Daily class preparation is demanding and students with English language limitations may have difficulty. Only students who feel confident in their English language ability should apply.
For this reason, the TOEFL (Test of English as a Foreign Language) or IELTS (International English Language Testing System) is required of foreign whose native language is not English. A TOEFL score of 600 on the paper-based test, 100 on the Internet-based test, 250 on the computer-based test or an IELTS score of 7.0 is expected. All aspects of each application are considered and language skills further evaluated through the interview and as such, candidates with lower scores may be considered. 
Applicants whose native language is not English but have earned a degree from an institution in which English is the language of instruction, may request a waiver of this requirement. Requests can be submitted via email to jmadmission@emory.edu. However, non-native English speaking graduate students are tested separately from the native English speakers in their courses and at times allowed extra time on exams. If a waiver of the TOEFL/IELTS is granted during the admission process, the student will be exempt from this accommodation and will be tested as if English were their native language. Therefore, requests for waiver should be considered carefully and if there is any uncertainty about the language ability, a TOEFL or IELTS score submitted.
---
JM Events