Main content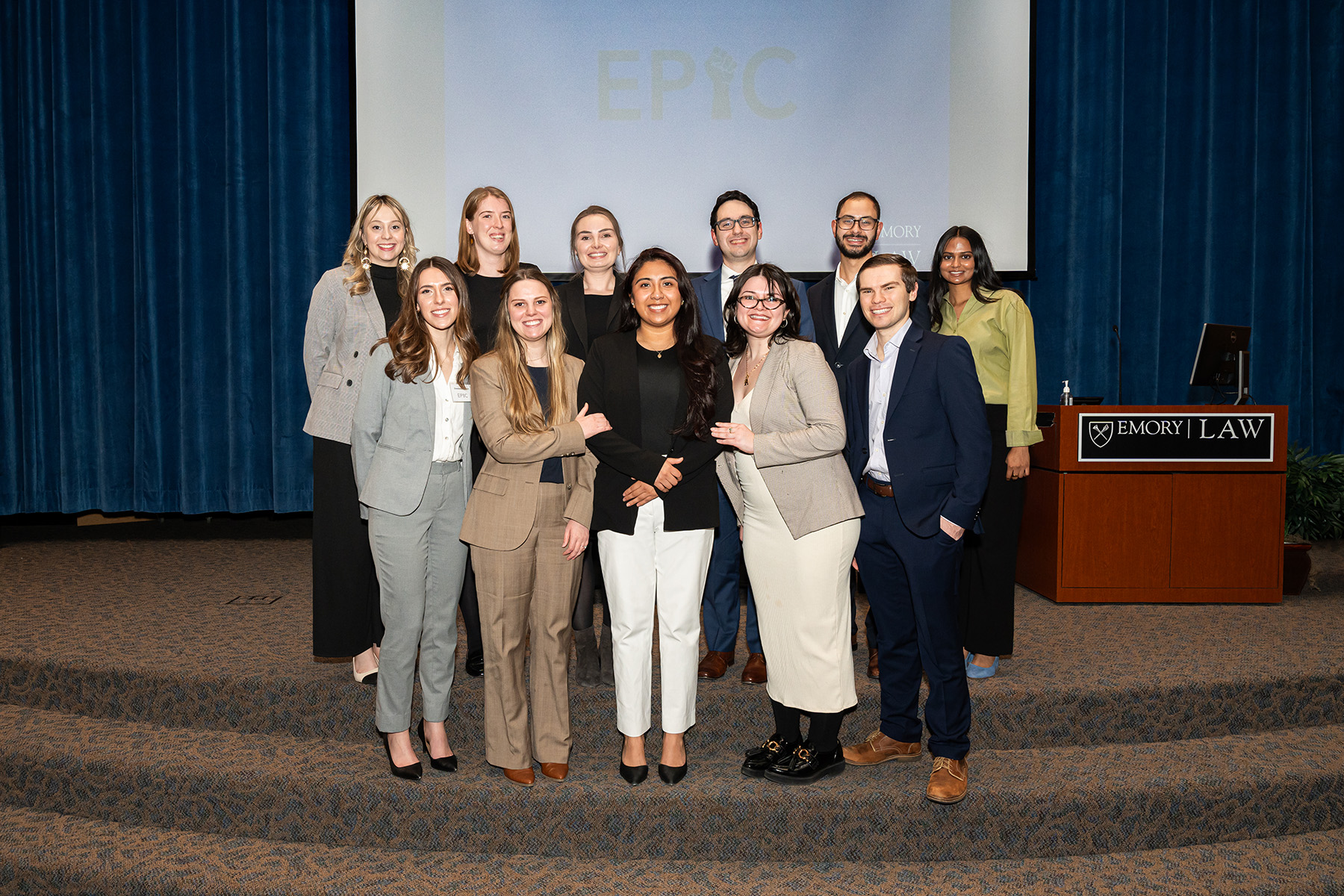 EPIC was formed in 1989 by students committed to making public interest jobs accessible to Emory students. EPIC has successfully undertaken a major fundraising effort that has provided summer grants for students who accept volunteer positions or clerkships in public interest organizations.
EPIC has the benefit of Emory Law alumni who are dedicated to public service and serve on EPIC's Advisory Board. These attorneys work in legal aid, nonprofits, the public defender's office, and law firms throughout Atlanta.
---
Inspiration Awards 
One of the law school's signature events, the Inspiration Awards celebrate members of our community who do extraordinary work in the public interest and provide funding for public interest summer grants. The event traditionally attracts over 300 people and raises enough funds to provide stipends for students who worked in otherwise unfunded public sector summer jobs. 
---
Programs
EPIC Book and Supplement Sales
Sales are held at the beginning and middle of each semester. EPIC will donate any books more than one edition older than the current edition in use to Liberian law students. Drop your books, supplements, study guides, flashcards, etc. in EPIC's donation bins. The bins are located at the bottom of the stairs connecting Gambrell Hall to the law library, just behind the small elevator.Contact the EPIC secretary for information about receipts and more information at epicsecretary@gmail.com
Public Interest Lunch Series
The EPIC lunch series brings public interest attorneys practicing in various fields to the law school for a casual lunch with a small group of students. The attorneys usually talk about their experience in their current position, experiences that helped them prepare for their job, and other good public interest advice. This semester, we will have lawyers from the Georgia Innocence Project, Atlanta Legal Aid, and the Georgia Asylum and Immigration Network. Each lunch is capped at 10 students to ensure an intimate conversation and plenty of time for questions. EPIC provides lunch and students provide their own beverage.
Public Interest Research
Whether you are a current law student looking for a legal research topic for a class or law review note or you're a public interest attorney who has a need for legal research that a student could complete over the course of a semester, ACS ResearchLink can be just what you're looking for. If you have any questions, contact Virginia Marentette at vmarentette@acslaw.org.
Training Opportunities
New Leaders Council (NLC) trains and supports the next generation of progressive political entrepreneurs—those who are leading industries, setting trends, and building institutions that support robust civic and political life in a global America. NLC Fellows engage in an intensive ten days of training over a five-month period to learn cutting-edge entrepreneurship, leadership, and political management skills from over 150 industry-leading volunteer faculty. Upon graduation, Fellows are paired with career mentors, join a national alumni network, and agree to fundraise to support the next class of Fellows. 
---
Justice John Paul Stevens Public Interest Fellowship
Emory Law is pleased to administer the Justice John Paul Stevens Public Interest Fellowship Program. This program is generously funded by the Justice John Paul Stevens Foundation »
Stevens Fellowships provide financial assistance to students who will spend their summer volunteering at a public interest organization. First- and second-year students who have secured a full-time (40 hours/wk for 10 weeks) volunteer summer law position with a public interest organization may qualify.
Qualifying employer organizations include legal services agencies and government offices (judicial externships do not qualify). Private sector "public interest" law firms will also be considered as qualifying employers as long as the position is unpaid and the firm provides a letter or other descriptive material that supports their "public interest" status.
All applicants submit a letter from their employer confirming their summer position. The essay portion of the application should describe the applicant's commitment to public interest law. Beginning in 2019, applicants also must submit a separate statement as to how the work is consistent with the mission of the John Paul Stevens Fellowship Foundation.
2022 Fellows: 
Martin Berg 24L, Karian Chard 24L, Madison Dodge 23L, Victoria Olender 23L, Alex Passe 24L, Emily Spears 23L, Sydney Calas 23L
Past Winners:
2021 Fellows:

Mary Katherine Karcher 23L, Naomi-Beth McCall 23L, Teddy Randel 22L, Megan Toomer 23L

2020 Fellows:

Stephanie Bauer 21L, J. Michael Babineau 21L, Kyle Obiora 21L

2019 Fellows: 

Luce Randall 21L, Dru Selden 21L
2018 Fellows:

 

Lukas Alfen 19L, Anna Leigh Keith 20L, Linden Wait 20L
2017 Fellows: Carly Rabner 19L, Brandon Scheck 19L
2016 Fellows: Morgan Bridgman 18L, Amanda Quiles 17L
2015 Fellows: Kaitlyn Barnes 17L, Amelia Todd 16L
2014 Fellows: Rachel Berman 15L, Caitlyn Wade 15L
2013 Fellows:

 

Rebecca J. Hallum 14L, Margaret L. Riley 14L
2012 Fellows:

 

Ruth W. Dawon 12L 12MPH, Jamie C. Schickler 13L
---